Unite And Conquer
Hinchinbrook x Maglissa | 16.1 HH
2023 Service Fee: $6,600 inc GST, Live Foal.
Super Early Speed Machine
Doesn't get EARLIER – Won the first 2yo Stakes race of the year.  1st Maribyrnong Trial L by 3L in early October.    – defeating SUN CITY.

Doesn't get CLASSIER – Won $200,000 Wyong Magic Millions L in December – defeating EXHILARATES, SPACE BOY

Retired due to tendon injury as favourite in the $2,000,000 Magic Millions Classic in Jan at 3rd Start.

Pedigree is packed with champion speed influences such as DANEHILL and SNIPPETS as well as other Golden Slipper winning sires FLYING SPUR, DANZERO, MARAUDING and VAIN.

From daughter of tough mare DANGLISSA (ATC Flight S. Gr.1 1600m) with female pedigree tracing directly to blue hen DARK JEWEL, the dam of Golden Slipper winning sire BAGUETTE.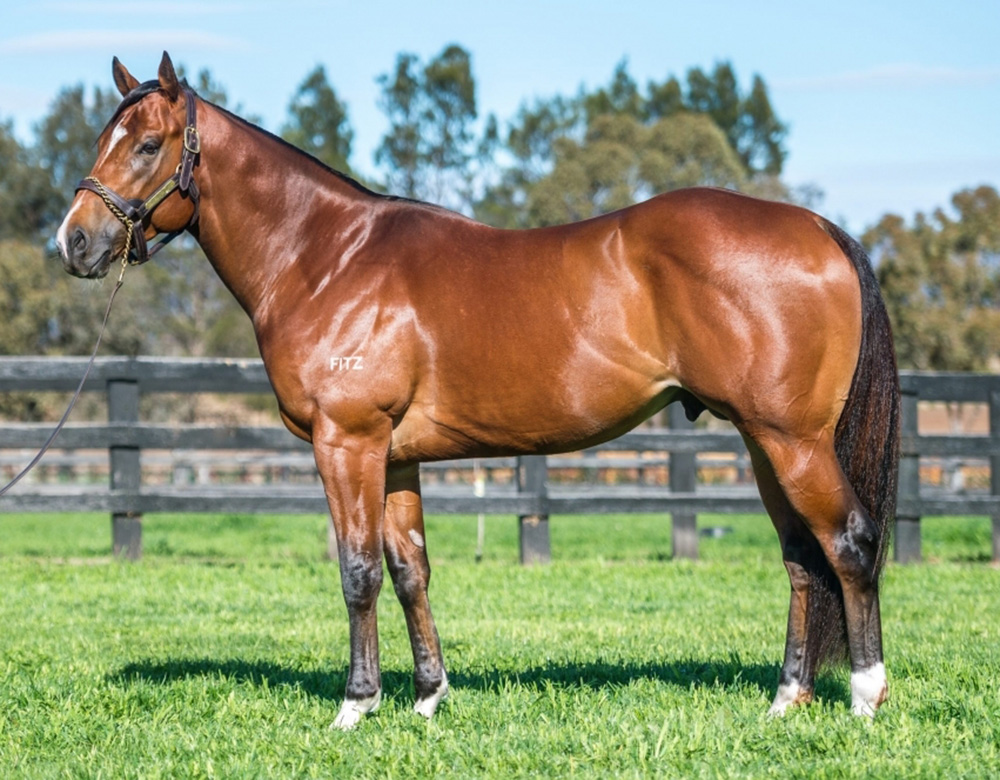 Unite And Conquer Breeders Bonuses
Due to great support, Kingstar have announced a Breeders Bonus to thank those supporting us in his first season.
$20k to the breeder of his first country winner
$25k to the breeder of his first provincial winner
$35k to the breeder of his first city winner
$50k to the breeder of his first stakes winner
"He's a special colt. He's showing us all the attributes of special colts we've had in the past like Pierro, Vancouver and Sebring. He's a big imposing colt with muscle on muscle, a real speed horse."
Adrian Bott
UNITE AND CONQUER (AUS) 2016 Bay colt
by Hinchinbrook – Maglissa, by Magnus
---
HINCHINBROOK (AUS)
B. 2007
GW 2 wins
f:592 r:531 w:375 SW:22
Fastnet Rock
B. 2001
GW 6 wins
f:2464 r:2043 w:1458 SW:189
Danehill
B. 1986
GW 4 wins
f:2414 r:2083 w:1631 SW:347
Danzig
7
Razyana
2
Piccadilly Circus
B. 1995
GW 2 wins
f:7 r:7 w:7 SW:1
Royal Academy
8
Gatana
2
Snippets' Lass
B. 1993
SW 7 wins
f:6 r:6 w:6 SW:3
Snippets
B. 1984
GW 9 wins
f:828 r:739 w:602 SW:57
Lunchtime
7
Easy Date
20
Snow Finch
B. 1984
SW 2 wins
f:14 r:13 w:10 SW:2
Storm Bird
4
A Realgirl
2
MAGLISSA (AUS)
B. 2009
Wnr 3 wins
f:4 r:3 w:3 SW:1
Magnus
B. 2002
GW 4 wins
f:800 r:656 w:469 SW:25
Flying Spur
B. 1992
GW 6 wins
f:1708 r:1506 w:1026 SW:99
Danehill
2
Rolls
4
Scandinavia
Ch. 1994
GW 4 wins
f:13 r:10 w:8 SW:4
Snippets
20
Song of Norway
1
Danglissa
B. 1996
GW 6 wins
f:11 r:8 w:6
Danzero
B. 1991
GW 4 wins
f:1246 r:1042 w:670 SW:40
Danehill
2
Confidentially
13
Vreeland
B. 1990
Pld
f:12 r:10 w:7 SW:1
Lord Seymour
14
Polished
6
---
HINCHINBROOK (AUS) (Bay 2007-Stud 2011). 2 wins at 2, AJC Skyline S., Gr.3. Leading First Season Sire in Aust. in 2014-15. Sire of 531 rnrs, 374 wnrs, 22 SW, inc. Beat the Clock (HKJC Centenary Sprint Cup, Gr.1), Press Statement, Spright, Seabrook, Whispering Brook, Derryn, Leonardo da Hinchi, Diamond Tathagata, Salsonic, Samara Dancer, Champion's Way, Flippant, Chica Fuerte, Mildred, Flying Jess, Aliferous, Unite and Conquer, Volcanic Rock, etc.
1st Dam
MAGLISSA, by Magnus. 3 wins to 1450m, A$93,820, MRC Melbourne Legacy Xmas H., 2d SAJC Peter Elberg Funerals H., Highway After Party H., Drink Driving? Grow Up H., 3d SAJC Syd McDonald's 90th H. Half-sister to Meduesa (dam of EURYALE), Redeeming Lass (dam of SWEET REDEMPTION). Dam of 4 named foals, 3 to race, all winners, inc:-
UNITE AND CONQUER (c by Hinchinbrook) 2 wins. See below.
Mission Value (g by Capitalist) Winner at 1200m in 2021-22, 3d ATC Inglis Nursery, RL.
So United (g by So You Think (NZ)) 3 wins from 1200m to 1800m, A$139,130, to 2021-22, ATC TAB H., Ranvet H., Hyland Race Colours P., 2d ATC TAB H., 3d ATC TAB H.
2nd Dam
DANGLISSA, by Danzero. Joint third top filly on The 1999-2000 Australasian 3YO Classification. 6 wins-2 at 2-from 1200m to 1600m, A$864,415, AJC Flight S., Gr.1, STC Queen of the Turf S., Gr.2, Tea Rose S., Gr.2, NSW Tatt's RC Furious S., Gr.3, STC Clan O'Sullivan 2YO H., Leisure Lea 2YO H., 2d VATC One Thousand Guineas, Gr.1, STC Honda 3YO Magic Millions S., 3d VRC Wakeful S., Gr.2, STC Magic Night S., Gr.2, AJC Keith Mackay H., L, 4th AJC Challenge S., Gr.2, Light Fingers S., Gr.2. Three-quarter-sister to DANZIPPO, Stoneblack. Dam of 11 foals, 8 to race, 6 winners, inc:-
Maglissa. 3 wins. See above.
Danglissa Girl (f Hinchinbrook) 2 wins-1 at 2-at 1200m, BRC Hosken Site Steel 2YO P., 2d BRC Haymans 2YO P., SCTC Workplace Central 2YO P., 3d BRC Gary Palmer Memorial 2YO H. Producer.
Magnascope – Luke Man (Mal.). 2 wins at 1100m, 1200m to 2022 in Malaysia, 3d WATC Belmont Bonanza P.
Ready and Able. Winner at 1400m in Aust. Dam of 4 winners-
Slow Hands. 6 wins from 1200m to 1650m, NZ$16,500, A$314,800, to 2021-22, BRC Treasury Brisbane H., Calile Hotel H., Qld Guineas Day P., Suez H., A Night in France H., 2d BRC Magic Millions Insurance H., Gallopers Sports Club H., Anzac Day Races H., Olivia's Raceday H., TAB H., Spirit of Boom H., Membership Renewal H., Cascade H., Souths Sports Club H.
Red Delight. Unplaced. Dam of-
Regal Lion (g Jakkalberry) Winner at 1950m, NZ$101,912, A$51,750, in 2021-22, 2d ATC Tulloch S., Gr.2, 3d New Zealand Derby, Gr.1.
Perfectly Poised. Placed at 2 in Aust. Dam of 3 winners-
Chase on the Case (g Wordsmith) 4 wins at 1200m, 1600m, A$120,828, to 2020-21, 2d MVRC Front Runner Membership H., 3d TTC Gold Sovereign S., L, MRC Spartacus H.
Meduesa. Placed at 2 & 3, 2d STC De Bortoli Wines 2YO H., Aevum Living H. Dam of 3 winners-
EURYALE (f Lonhro) 5 wins-2 at 2-from 1200m to 1900m, A$382,363, VRC Gibson Carmichael S., L, ATC McCain Advantage Significant S., MRC New Litho 2YO H., ATC Zac Homes H., Gaypak & United Fruit H., 2d VRC Secondbite 2YO P., ATC Nova 969 Fitzy & Wippa H., 3d VRC Fashion S., L, MRC Breathless H., ATC Tab.com.au H., St Johns Park Bowling Club H., MRC Frank O'Brien H., 4th ATC Premier's Cup, L. Producer.
Athena Lass (f Snitzel) 2 wins-1 at 2-at 1000m, 1100m, A$93,250, MVRC William Hill 2YO H., 2d MVRC Adapt Australia H., 3d MRC Quezette S., Gr.3, MVRC Roll the Dice Racing H., 4th MVRC Atlantic Jewel S., L. Dam of-
PROFITEER (c Capitalist) 3 wins-2 at 2-at 1000m, 1100m, A$1,521,350, to 2021-22, ATC Inglis 2YO Millennium, RL, VRC Schweppervescence P., Lovethehorse 2YO H., 2d ATC Todman S., Gr.2, MRC Blue Sapphire S., Gr.3.
Redeeming Lass. Unraced. Dam of 3 winners-
SWEET REDEMPTION (f Snitzel) 6 wins-1 at 2-from 1200m to 1600m, A$401,810, ATC Festival S., Gr.3, Toy Show H., Gr.3, TAB Rewards 2YO H., TAB Rewards H., McGrath Estate Agents Qld H., 2d MRC Summoned S., Gr.3, TTC Tasmanian Oaks, L, Goulburn City Cup, ATC TAB Place Multi 2YO H., Legea Xmas Party H., 3d MVRC Alexandra S., Gr.3, BRC Brisbane H., L, ATC Cafe Culture Insitu H.
3rd Dam
VREELAND, by Lord Seymour (Ire). Placed in Aust. Half-sister to Lord Sheraton, Smooth – Cosmolife (H.K.), Polishing (dam of DANZIPPO), Shiny (dam of MARVEEN). Dam of 12 named foals, 10 to race, 7 winners, inc:-
DANGLISSA (f Danzero) 6 wins. See above.
Casting. Winner at 1200m, BRC Membership With the BRC S.
Race Record: 3 Starts 2-0-0 A$201,750.
Won Wyong Wyong Magic Millions 2YO Classic (R), RL (1100m), VRC Maribyrnong Trial S., L (1000m)